Barbara Jaspersen
Barbara is Stray Muse's chanteuse. She sings jazz, opera, blues, folk and standards. In Stray Muse, she sings deeply resonant songs with a heartfelt intensity. She was previously lead singer for the infamous Tawdry Hepburn.
---
Mark Lauden Crosley
Mark is a guitarist, mandolinist, songwriter and occasional singer who grew up playing acoustic music, took the plunge into rock and roll, and has gone back to his roots with Stray Muse.
He is the author of the autobiographical novel Some Way Outa Here, the story of how music saved a wayward teenager, long ago.

---
Shelley Sorenson
Shelley is a multi-instrumentalist and singer. She brings her flute and percussion skills to Stray Muse as well as singing backup vocals and an occasional lead. Shelley is also lead singer for Pacific Fault Line, and she hosts the popular Rock and Roll Librarian podcast.
---
Rob Bassinette
Bassist Rob Bassinette brings experience across genres to Stray Muse. An in-demand sideman, he may also be heard regularly with various groups around San Francisco and beyond. 
---
Steve Lussie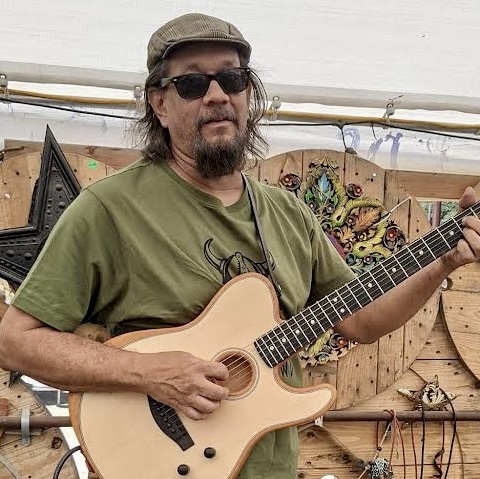 Steve, lead guitarist and mandolinist, has played guitar professionally since he was a teenager. He is a graduate of the Musician's Institute "GIT," as well as the Lionel Hampton School of Music. Steve is active in the CBA, as well as performing as a sideman with several acts throughout the Bay Area. 
---